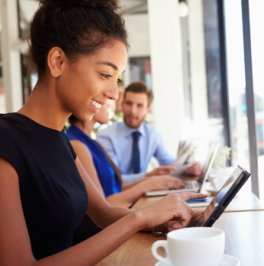 Features

You can manage your accounts right where you are, from your own computer!

Log on to view account balances and transactions. Make loan payments and transfers. You can even set up alerts and recurring payments to pay bills electronically. And while we'll miss seeing you as often at the bank, we have a feeling you won't miss the drive-thru line.

Manage accounts from your computer
Log on to view account balances
Review transaction history
Make loan payments
Use Bill Pay to pay bills electronically
Save money on postage and courier service
Save time spent on errands to the bank
Set up alerts, reminders, and recurring payments
Encrypted to keep your financial information safe

FAQs

Q: What is online banking and how much does it cost?

A: Online banking provides access to your Bank of Weston accounts from the convenience of your personal computer. All account inquiries, transfers, email, and other bank information services are free. Normal bank fees will be assessed for completed wire transfers, stop payments, and check orders.

Q: What types of accounts are accessible in online banking?

A: You can access any of your Bank of Weston accounts, including: Checking, Savings, Certificates of Deposit, Loans, and IRAs.

Q: What do I need to get started with online banking?

A: You need an account at Bank of Weston and you need access to the Internet.

Q: Can I access my accounts from more than one location? Can I use it at home and at my office or when I am traveling?

A: Yes. You can access your accounts from anywhere that you have internet access.

Q: I share a checking account with someone else. Do we both need to enroll or can we share the same Login ID?

A: We do not recommend sharing user IDs or passwords with anyone. Each account holder can be set up with their own user ID and password.

Q: Can I download information to my financial management software?

A: Yes, online banking can export to the leading personal finance management software packages available today. The formats are .OFX for Microsoft Money®, .IIF for Intuit Quickbooks, .QIF for Quicken. You can also convert your data into a comma delimited file .CSV (spreadsheet) or text file .TXT (word processing).

Q: How current is the information?

A: All account information is current as of the date of our last processing.

Q: Are there times when I will not be able to access my accounts?

A: The system is available 7 days a week, 24 hours a day, except for a few minutes each evening during the day-end process. If you are able to get on the internet, but unable to reach online banking, try again later. If the problem persists, email us at [email protected] or call us at 816-858-5900.

Q: Do you offer electronic statements?

A: Yes and it's free! You may elect to receive your statements electronically for any of your Bank of Weston checking or savings accounts.

Q: Do you offer Bill Payment?

A: Yes and it's free! You can send a payment to anyone, anywhere with just a few clicks of your mouse.

Q: Can I customize my online profile?

A: Yes. Find out more about Customized Online Profiles.

Q: Why are my widgets not loading?

A: Check to make sure your browser is not running in compatibility view. Online banking will not run while compatibility view is on.

Funds Transfers

Q: What types of accounts can I transfer funds to and from?

A: You can transfer funds between any of your Bank of Weston checking and savings accounts. You can also transfer money to a loan, resulting in a loan payment.

Q: I know that I will never transfer money from some of my accounts. Is there some way to keep me from inadvertently transferring from such an account?

A: Yes, you may designate any of your accounts as "view & deposit only" access and prevent transfers from those accounts. You can still view the accounts and transfer funds to them.

Q: I have an account at another bank. Can I transfer funds to it from my Bank of Weston account?

A: No, transfers can be made only between your accounts at Bank of Weston.

Q: Are there limits on the number of transfers I can make?

A: Online Banking poses no limits on the number of transfers you can make. However, Federal Regulations limit the number of withdrawals and transfers on certain types of savings accounts and money market accounts. If you are unsure about the restrictions on your accounts, check with a customer service representative at any location.

Q: When will my transfer take place?

A: If you initiate the transfer before end of day processing, the transfer will take place on that day. Otherwise, it will take place the next business day.

Security

Bank of Weston employs the latest in internet security and user authentication to ensure that data being transmitted through the online banking system is secure from unauthorized access. The methods are outlined below.

Q: Which browsers and devices are compatible with online banking?

A: We support the current major releases of Internet Explorer and Firefox. And prior major releases of Internet Explorer and Firefox going back 3 versions.

Effective August 8, 2013, the current and prior major release of Safari will be supported for Apple/Mac users only. Safari will no longer be a supported browser for Windows users. This is a security based change to the policy as a result of Apple's decision to not allow Windows users to update beyond the 5.1.7 version of Safari. At this time, Windows Safari users are exposed to at least 121 unpatched items. Please note that Windows Safari users will not be prevented from using NetTeller. But it is highly recommended that Safari Windows users utilize an alternative browser. If you absolutely must use these older Safari versions, you will need to use the following workaround: After login, click the refresh button on the browser toolbar to re-load the screen. This will need to be done at each login.

Current version of Google Chrome is supported. Tablet and smartphone devices that are web enabled can get to the online banking through a browser, however may not function correctly and are NOT supported. Online banking is only supported for pc or laptop devices.

Older versions of Internet Explorer may cause problems if compatibility view is turned on. Be sure to turn off this function when using NetTeller. For more information, Click Here.

Q: Is online banking safe and secure?

A: Yes! It features password-controlled system entry, a VeriSign-issued Digital ID for the bank's server, Secure Sockets Layer (SSL) protocol for data encryption, and a router loaded with a firewall to regulate the inflow and outflow of server traffic.

We recommend that you use the 128-Bit secure versions of Internet Explorer and Netscape.
You can help safeguard your information and the system by protecting your Login ID and Password. Memorize them and keep them secure.

Q: Are there rules and guidelines concerning Passwords?

A: Yes. You select your password and can change it at any time. Except for the temporary password selected when you enroll, your password will never be known to bank personnel:

Your password must be 6 - 10 characters in length.
You can use any combination of letters, numbers, and hyphens.
Your password is case-sensitive; i.e. "A" is not the same as "a."
When changing your password, the new one cannot be the same as the most recent one.
You are required to change your password the first time you access online banking.
You should not use passwords associated with commonly known personal identification such as social security numbers, your name, names of children, or date of birth.
For more information concerning Bank of Weston 's security, visit our Security Statement.