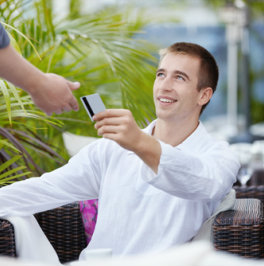 Features

Use your debit card to make money management easier with all of our accounts. And if you have a Kasasa® account, your debit card also helps you qualify for rewards.

Sign up for a free Kasasa checking account, and use your card to qualify for rewards that matter to you, including nationwide ATM fee refunds.* Or use your card to track spending easier with any of our accounts. It's all the convenience of a free Visa® debit card, with all the benefit of Bank of Weston.

Free Visa® debit card accepted around the globe and online
Use your debit card to qualify for rewards with free Kasasa Cash®, Kasasa Cash Back®, and Kasasa Tunes® checking accounts
Safer than carrying cash
More convenient and safer than checks
Protect online purchases with Verified by Visa®
Eliminate cost of purchasing checks
24/7 access to funds via ATMs
Easily withdraw funds from ATMs

To report a lost or stolen Visa® debit card, please call 1-800-383-8000.

Verified by Visa®

Enjoy extra protection for all of your online debit card purchases. We offer this service at no additional charge.

Comprehensive fraud protection
Prevent unauthorized debit card use
Protect your online purchases

Debit Card Security

In an effort to safeguard your account, we have systems deployed that monitor account activity for potential fraudulent transactions. Currently we have noticed an increase in fraudulent debit card activity at various merchant locations throughout the United States and have made the decision to place restrictions on certain signature-based transactions that present a higher risk of fraud at this time.

If you attempt or have attempted a signature-based debit card transaction that is declined and you believe that it is a direct result of these protective restrictions, please try your transaction again using the personal identification number (PIN) that was provided to you shortly after you received your card. If the transaction is still declined, please contact the Bank of Weston for assistance at (816) 746-4555 or (816) 640-5252.

If you are planning to travel, we request that you notify us before you depart so that we can make the appropriate notations on your account. This will aid us in the detection of fraudulent transactions and prevent us from possibly placing a restriction on valid transaction attempts. Additionally, it is usually best to carry an alternative method of payment as a backup.

We sincerely apologize for any inconvenience these restrictions may cause but please know that we believe this measure is the best way to protect your account at this time.